About
We are a software engineering firm that specialises in developing high-performance, high-quality cloud-based software platforms.
We work with companies of any size, from startups to Fortune 500s, all of which have the desire to do great things. And while perfection might not be attainable, in our pursuit of perfection, together we will achieve great things
Do few things and do them very well
At Muljin, we hold one belief over everything else, which is to do only the things you can do very well. We do not chase after and use the latest technologies just because they are new. We carefully study each technology we use, measure its pros and cons against alternatives, and once we select a suitable technology we put all our resources and efforts into understanding them comprehensively.
We don't do everything, but the things we do, we understand and do very very well.
Our engineers
We are a remote-first firm and hire engineers from all over the world. Talent is not just limited to the few countries in which we have offices, and by being remote-first, we are better able to attract the best engineering talents from across the world.
We have a rigorous selection process to protect our culture of engineering excellence. Our typical interview process hires just 1 candidate from 250 applicants. Each candidate is measured not only on their current ability and how well they test, but their drive, intelligence and cultural fit. We hire candidates who are among the best in their field and create an environment where they will become even better.
How we work
We believe that a small team of dedicated developers, when given the right tools and guidance, can achieve geat things. Our typical development teams are composed of 3 - 6 full time engineers, a team leader and a project manager. We find this combination works best, allowing our teams to be small and agile enough to not be bogged down by processes, but large enough that they can have all the skills neccasarily to successfully complete projects of all sizes.
Our typical process involves 3 main cycles, Discovery, Build and Handover.
Discovery
During the discovery stage we dive into your buisness, current processes and try to understand your main pain points. Once we have a better understanding of what you are trying to achieve, we take these learnings to try to come up with the best solution for your particular needs, which we present to you for feedback. We don't expect to find the excact solution from the start, so we take this feedback, learn from it, and use it to improve our proposed solution and continue on this cycle until we have come up with a solution you feel meets your needs.
Build cycle
The build cycle is where the development work gets done. During this stage we begin planning and developing your solution, and through regular meetings give updates and receive feedback.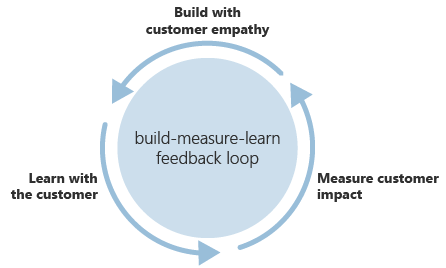 This stage, often split in 2 - 4 week cycles, follows the Build, Measure, Learn pattern, where we build a small part of the overall solution, measure its performance, suitable and collect feedback, and then use the measurements and feedback to learn how we can improve during the next cycle.
Handover or maintenance
Finally, once we have completed the project to your satisfaction, we enter the handover or maintenance phase. During this phase we can either continue to maintain any software developed for you or hand over maintenance and continued development responsibilities to your own inhouse team, working with them to first understand the architecture and project and then carefully handing over development and maintenance responsibilities.
Interested in learning more? Contact us